Make a Dress: My Sergeantry Quest
Introduction
In mid-June of 2013 I was honored and pleased to finish the first part of my attempt at becoming a Sargeant of the Barony of Dragon's Laire (in the SCA). I successfully passed tests on heraldry, history, sca history, what I call the sca 'scouts' skills (start a fire, tie a knot, etc), numerous persona driven questions and tests and more. It was all very challenging and also very exciting and I'm quite proud I did it.
Once finished with the presentation, and having found many willing test subjects for tasting cheeses, I was given my ultimate 'test' for Sergeant. I was tasked with making a fully researched, fully 'period' dress, documenting the research and making of it, and presenting it as a single entry for at the Kingdom Arts and Sciences Competition, 2014.
Now, THIS was a challenge I could dive in to!
The Purpose and Scope has Changed a Bit: Early September, 2013
At September Crown, on 1 September, I was honored to be asked to accept a companionship in the Order of the Laurels. Wow. It's two days later and it's still hazy and dreamy. The obvious course, clothing-wise, upon learning this was to make the Sergeantry Quest clothing at the same time I make some of the clothing for my ceremony. Usually others volunteer to do this, or help, but I'm going to do it myself as my Sergeantry Quest. However, we are doing completely different clothing (Roman!) for the vigil and I hope people can help me with that. And there is always my wonderful husband, Renart, to cloth for the ceremony. He's agreed to wear Tudor, for that event at least!
I'm pretty sure I'm going with Type 1, as detailed below. Maybe I'll make Type 3 for the party :).
More Musings: Early August, 2013
Unless persuaded otherwise, I'm going with Type 1 (see below) or Type 3. If you blow up the painting of Lady Guilford, you'll see whitework around the edge of her smock, a very thin partlet and underdress with what looks like gold embroidery on the edge and various other things. I love the detail. It's still not super blingy, but I do love that detail.
On the other hand, the Type 3 dress, and variants thereof, is awesome. I love the look of it, how it seems so relaxed and rich without being super heavy. There is whitework around the inside of the neckline, or perhaps some kind of lace? The red and gold trim on the dress is stunning. There seems to be goldwork on the cuffs. I like that it doesn't have the huge Tudor arms, which look awesome but, as I know from experience, are a bit cumbersome to wear. I will look for more examples of dresses like this before making my final decision.
The First Musing: Mid-Late June, 2013
I've decided that I am going to make at least one (if not eventually all three) of the following three 'types' of dress. All are late period for the SCA, but early to mid Tudor period. None date past about 1560, if that. I'm not a big late Elizabethan fan, although I could be persuaded...
Anyway, the dresses:
Type 1
The iconic, to me, representation of this dress is Holbein's portrait of Mary Wotton, Lady Guildford. The portrait only goes down to waist level, so the skirt is impossible to see. However, Holbein did several full-length sketches of early Tudor women wearing dresses very similar to Mary Wotton's.
Pluses: I have all the fabrics needed, I think, for this dress, including orange shot silk for the sleeves, black velvet for the gown, etc. I LOVE this dress and portrait.
Negatives: Boring? Where's the bling?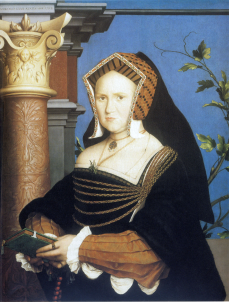 Images from Wikimedia Commons. If you click on them, you'll be taken to a much larger version, in most cases.
Type 2
This dress is a later Tudor gown, from the 1540s or so. Iconic portraits are Princess Elizabeth and Lady Jane Grey (or Katherine Parr, opinions vary). There is definitely bling here. The skirt is split, with a forepart. The sleeves are full and, frankly, awkward, but great for doing a lot of embellishment. There is blackwork aplenty, less cumbersome head pieces and jewelry.
Pluses: Bling! Snazzy fabrics (of which I have none at the minute, but maybe the shot silk). I have a bright blue forepart and sleeves, in velvet, which I made years ago which could be used for a dress like this.
Negatives: Heavy, heavy, heavy. Movement is almost impossible with the sleeves if they are really blinged up. Have to wear a hoop skirt (which I actually don't really mind).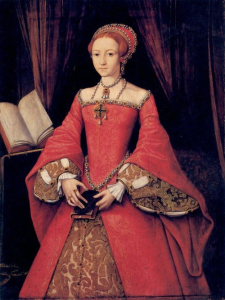 Images from Wikimedia Commons. If you click on them, you'll be taken to a much larger version, in most cases.
Type 3
This is a 'loose' gown. It can be really blinged up, check out the portrait of Katherine Parr, below. She's belted the gown, you can see the folds of it under her arms and at the side of her body. The fabric in this portrait is absolutely stunning. There are patterns in 'The Tudor Tailor' for this type of gown, and a more fitted version.
Pluses: I don't have a loose gown. I do have some fabric to make a 'camping' version of this gown, which I'd planned on doing for a while. I would need a different, fancier fabric for something like the portrait(s). Bling potential is awesome, but not overbearing. Love the headwear Katherine has on.
Negatives: Would need an underdress (this is a negative?). Depending on how I do it, might need a hoop skirt as well, although I'm inclined not. Potentially very heavy and cumbersome.
Image from Wikimedia Commons. If you click on it, you'll be taken to a much larger version.