An Early Tudor Outfit: Construction Basics
Basics
There are a few things I am trying to achieve with this exploration into Tudor clothing.
I want to accomplish clothing that is as close to the inspiration portrait and drawings as possible.

The gable headdress, made for me as a gift by a friend, will be very important in this. She is doing a great job with the headdress.
The look and fit of the bodice is important.
It is important that the gown hug the upper arms tightly. This is against modern comfort and asthetics, but I know from experience it's actually not that difficult to wear. It is difficult to fit.

I want to be as accurate in materials and techniques as possible.

All sewing will be by hand. I hope to use period stitches and techniques here.
All pattern making will be by enlarging basic tailor's patterns. I will not be using period tailors for this, although they are available. That is a bit beyond my reach, this time.
Materials will be natural, silk, wool, linen and cotton.

Kirtle is magenta wool suiting.
Lower sleeves are silk taffeta
Lining is linen on everything.
Interlining is cotton.
Gown is black cotton velveteen. I would have liked to use silk, but cost is a factor.
Sketches and Portraits
If you click on them, you'll be taken to a much larger version, in most cases.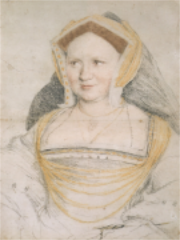 Images from Wikimedia Commons.
Image from the British Museum Collection